Hi, I'm Sharon Miles and I am the vicar of the 'Benefice of St Osyth and Great Bentley' and live here in St Osyth. I have been here for 8 years and really enjoy being part of village life.
I love the fact that the Church here in St Osyth is very much part of the community and plays a real role in village life – not just for the key Christian festivals of Christmas and Easter but also All Souls, Remembrance Day and village activities like School Services, Concerts and Fayres.
I am often in Church so please do pop in and say hello when you visit.
Every Blessing                    Sharon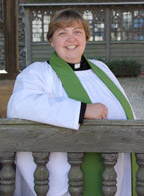 The Church Warden
Sonia Grantham : contact 01255 820648     sonia.grantham@me.com
The Church Warden supports the Vicar in the running and care of the parish.  A brief three point summary of her role has been described as 'leadership, labour and love' – it is certainly multi-faceted.

Pastoral Assistant
Sue Baker – 01255 821458  msuebaker17@gmail.com 
Sue supports the work of the Church in offering pastoral care to members of the congregation and residents and can offer home communion by arrangement.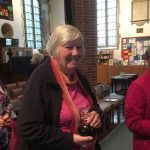 Administrative Staff 
The Parish Office is in the Church. 
General Administrator,  Monica Harvey works on Thursday mornings between 10am and 1pm.  You can email at stosythparishchurch@hotmail.com  
Our Wedding Coordinator and PCC Secretary is Helen Brown.  She is also in the office on Thursdays but between the hours of 1pm – 4pm.   You can email her at weddings.stosythchurch@hotmail.com 
Office tel no 01255 821362
Parochial Church Council (PCC):
The PCC are elected members of the Church who together with the  Priest and Church Wardens help with the running and decision making of all matters to do with the Church.  They meet six times a year approx.    The PCC secretary produces a resume of what has been discussed after every meeting to share with the  congregation to ensure everyone is kept abreast of what's happening.
Children's Ministry 
Our Sunday Club meet most Sundays at 11 am in the Church Room and all children, aged 4 or above, are very welcome.  Younger children are also invited to come along but will need to be accompanied by a parent or guardian. Click here to find out more.
For further information, please contact one of our Sunday Club leaders:
Dianne Pile          01255 820843     email:  dianne.pile@gmail.com
Shirley Wells       01255 822266     email:   shirleyandphilip68@gmail.com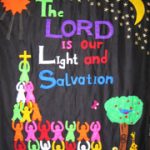 One of our many Church banners
The Organist and Choir
We now have an excellent new organist and choirmistress, Fiona Bodmer, who we share with Gt Bentley Parish Church. The choir meet to rehearse after each service for the following Sunday, and forthcoming festivals, with  a quick run through before the service at 11am after she has hot-footed it over from the adjacent parish. Please do come and join them – everyone welcome. Contact Anthony, 07930410740 or Hilary on 01255 860959  These times can vary on the first Sunday in the month and for Benefice services so please do check with Hilary.
Anthony and a few choir members
Bell Ringers
There is an active bell ringing group in the church.   They ring every Sunday morning before the main service and practice on Tuesday evenings.  Occasionally a quarter peel is rung here in St Osyth.  There are six bells and an old tenor bell which is peeled on appropriate occasions.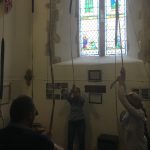 The Parish Magazine
The magazine is run by the Church and is very popular with local residents.  It is delivered free to approx 2,300 houses in the village!  It has an editorial team of four and a distribution manager who is supported by a large and very active team of volunteers.  The articles are wide ranging and informative with revenue from advertisements enabling the magazine to be self supporting, even on occasions making a small profit. 
Church Flowers:
We are so lucky to have some amazing talent in our Church when it comes to flower arranging!  They help to enhance all of our major festivals by transforming the church to the delight of everyone. 
For wedding flowers or if you would like to be involved please contact Brenda Lord on 01255 820458.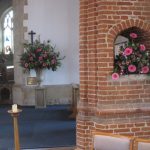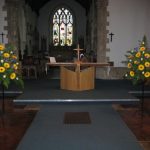 Bible Study Group
They meet twice a month to discuss the forthcoming week's/months Bible passages to gain a deeper understanding of the sermons.  Contact Jane Eade on 01255 823025.