Welcome to the Parish Church of St Peter & St Paul
Hello and welcome to our website.  Please scroll down for information regarding the Church and Coronavirus.
I am sure you will find what you are looking for and I do hope that it will include a visit to our Church when it is open again. Sadly at the moment we are CLOSED TO EVERYONE apart from our Church Warden who goes in regularly to check everything.  This is on strict instruction from the Diocese.
St Osyth Parish Church is a beautiful building which lies in the centre of the village.  Whether you are a member of a congregation or a visitor, or just passing and drawn by spiritual need we hope you will find our Church a welcoming and uplifting place to be.  You will not be visiting a museum but a lively centre of worship and music.  It is a happy, special place and we hope you will join us both in worship and in the many activities that are organised here at St Peter and St Paul. You are very welcome at any of our services and we trust you will find peace, joy and friendship within our inclusive and enthusiastic Church family. 
Our Church is both used and loved in equal proportion!
Every Blessing
Sharon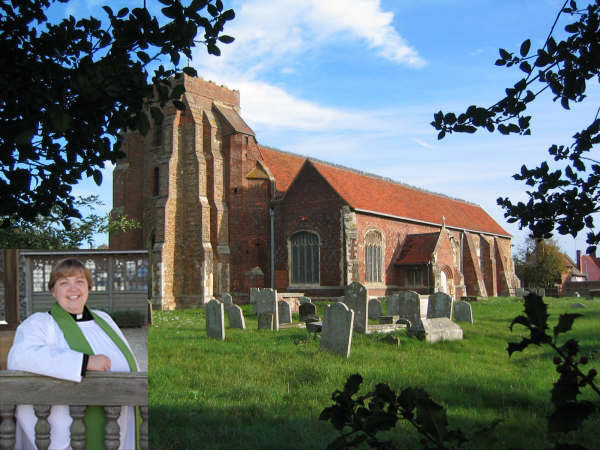 We hope that you will find the information you need on this website. It is still a work in progress so more material will be added as we go along.  At the moment it includes details of who we are, our regular services and when they are, special and seasonal services plus, of course, fund raising and social events.  If you cannot find what you are looking for then  click here to contact us. 
Coronavirus and your Church
Sadly, we have now been told by Chelmsford Diocese to close our Church.
We will still be collecting for the Salvation Army and ask you to leave your gifts in the Church Porch.
There will also be a folder in the Porch for you to add the names of those you would like included in prayer – I will light a candle for each name added.
 25.4.20.  Click here for a letter from St Osyth Church and St Osyth Parish Council re their joint initiative to support residents with volunteer deliverey services of groceries and prescriptions
Please do take care of yourselves and ensure that you keep yourself at a safe distance from others.  Revd Sharon
This information will be regularly updated as the situation unfolds so please keep watching this space for all Church related information .
For the Service for Sunday 31st May please click here
The Pew sheet for31.5.20 with important information re choosing a new Bishop and other notices click here   
For the Sermon from Andy Brown for 31.5.20. and previous sermons over the past few weeks plus special Pentecost and Coronavirus prayers   click here
Keep up to date on the new Church FaceBook page – click here…. 
SALVATION ARMY FOOD BANK – they still need food donations particularly during this unprecedented time of alarm surrounding the coronavirus – for example tinned fish, rice, hot chocolate, dried mashed potato, powdered and Long Life milk, sugar, fruit juice and squashes – all supplies are currently low and all help is gratefully appreciated! If you are self isolating and cannot get out arrangements have been made with local stores  click here for more details of how and where to help.
St Osyth News - important information
After much thought and discussion, it has been decided that we will not be publishing the St Osyth News until further notice.  Owing to the coronavirus, all events in St Osyth and Point Clear have been cancelled and  all clubs and other village organisations are now closed.
All those involved in producing our Parish magazine have not come to this decision lightly.  However given the potential risks of the outbreak to  our residents and those who faithfully deliver the magazines to every house in our area, it was felt that that there was no alternative.  We know how much people look forward to receiving the magazine, but we can assure you that as and when the emergency ends, we will be back in business with the St Osyth News.   In the meantime we would like to thank you for your understanding and continuing support  for our Parish magazine.  What would we do without you?! 
LOCAL SUPPLIERS OFFERING DELIVERIES TO AT RISK RESIDENTS:
ST OSYTH BUTCHER    01255 820292 Order one day in advance. Pay by card over the phone
NISA 01255 820283 Call 12.00 noon to 2pm Pay by card over the phone.
PREMIER 01255 823256 Pay by card over the phone
PRESCRIPTION DELIVERIES Call the Parish Office 01255 821447   9.00 am to 10 pm
POTATOES: Roy Clarke info@royclarkepotatoes.co.uk 01255 823031 Pay by Paypal. Will deliver 75p/kg up to 20kg bags.
OTHER: