Welcome to the Parish Church of St Peter & St Paul
St Osyth Church, Church Square, St Osyth, Clacton on Sea, Essex, Co16 8NU                                                                   Charity No. X96628 (St Osyth PCC)
St Osyth Parish Church is a beautiful building which lies in the centre of the village.  Whether you are a member of a congregation or a visitor, or just passing and drawn by spiritual need we hope you will find our Church a welcoming and uplifting place to be.  You will not be visiting a museum but a lively centre of worship and music.  It is a happy, special place and we hope you will join us both in worship and in the many activities that are organised here at St Peter and St Paul. You are very welcome at any of our services and we trust you will find peace, joy and friendship within our inclusive and enthusiastic Church family. 
Our Church is both used and loved in equal proportion even during pandemics!!
Every Blessing
Sharon
As a rule there will be 8am and 11am  Services every Sunday now except for the first Sunday in every month where it will be at 10am and alternate between St Osyth and Gt Bentley
Further lifting of Coronavirus Safety Precautions
At the Standing Committee Meeting and the PCC Meeting it was discussed and agreed that for the time being we leave the collection and blessing of monies and the sharing of Peace as they are at present.
But the kneeling to receive Communion would be left to personal preference – so feel free to kneel if you wish to at the Communion Rail.
We hope that you are happy with the decisions.
Pop In and Church Coffee
During the month of May, the many people who enjoyed tea, coffee and cakes in the Church Room contributed £311.87 to Church Funds.  Thank-you to them and the people who made cakes and produced the liquid refreshments – we are grateful to them all.
Don't forget we are open on Saturday Mornings from 10am to 11.30am for anyone to 'Pop In' for a coffee and chat! Everyone is welcome.
Big thank you!
Dollar and Meena have very generously donated £1714.80 to the Church from the sale of plastic bags at their two stores.  That is unbelievably kind and we have asked them if this time it could be used to produce a Special Issue of the Church Magazine showing how the residents in the Parish of St Osyth celebrated the Platinum Jubilee of Her Majesty Queen Elizabeth II in 2022.  They were very happy to agree so watch out for the July issue which has over 40 coloured photographs showing the many activities which were enjoyed.
A special thank-you to Monica and the Magazine Team who drew it altogether– we will I am sure be very grateful to them while we are enjoying reading it.
Happy Birthday!
Two very special members of our congregation Basil and Jean Hutley celebrated their birthdays last week.  As they are both in their nineties now it was lovely to have them in Church with us to join in the celebrations.
A Special cake was made by Dawn and the bell ringers rang a 'Plain Bob Doubles' in commemoration.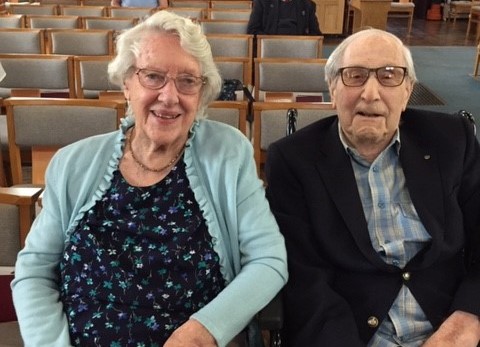 The Service Celebrating the Platinum Jubilee
It was a lovely service that we shared together on 5th June with a specially printed Service Order.  We walked into Church with the bunting and the Union Flag decorating the exterior of the building and the Churchyard setting the scene.  Many thanks to Chris and Dianne who put up all the decorations and then later in the week took them all down again!  Brenda had ensured that we had appropriately coloured flowers with Union flags standing to attention in amongst the arrangements.  Thank-you to her too and to Sharon who conducted a really enjoyable and reflective service.
The Salvation Army Foodbank
I asked Tracy who runs the Foodbank in Clacton to give us an update on the needs of the Foodbank and the need within Clacton and District for food.
Here is her Report
"Having just got over the fluctuating stock levels of the pandemic; we once again find ourselves running low on many food items within our warehouse.
Many of us are struggling with balancing the finances at home, and sadly this looks like it is only set to get harder as the year progresses.  If you are one of those on the lowest of incomes, the struggle is very real.  The choice once again to "heat or eat" becomes a default setting for many.  This is fundamentally wrong in what is the 5th richest country in the world.  Whilst Foodbanks should not exist, they are needed, and they will support those most in need in our community.  This is done without judgement; however, the clients do have to be referred to us by a registered agency able to identify that they have a need.
We are starting to see the reduction in food items donated to us as the overall cost of living rises, this coupled with the increase in demand will inevitably result in ongoing stock shortages.
We have started to actively promote our food shortages via our Facebook page each month.  The Parish Church is also highlighting this need in their pew sheets.  Once again, the residents of St Osyth do not disappoint.  We have been delighted to collect increased donations of food regularly from the church, much of which is what we are running low on. 
On behalf of the clients we serve in our local community, thank you.
Tracy Dobbs
Community Manager
Clacton Salvation Army/Clacton Foodbank"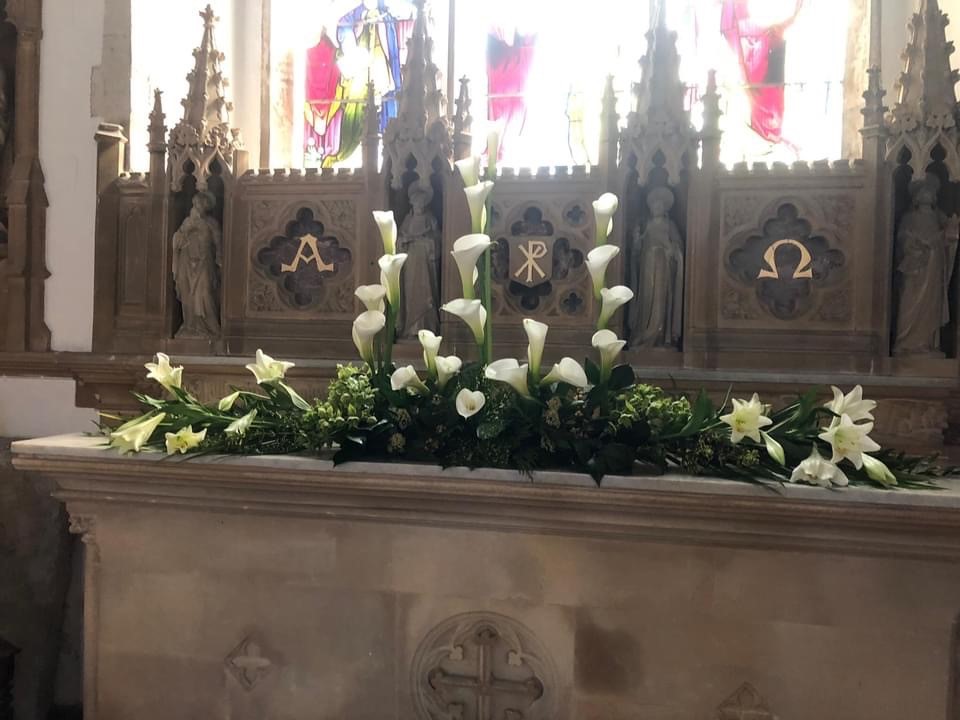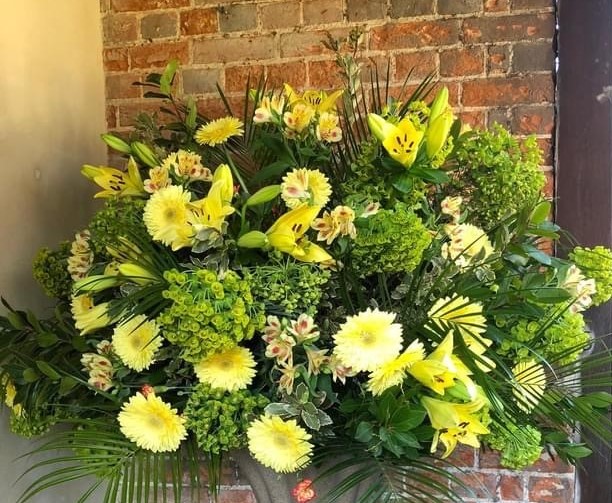 After Church Refreshments and Pop in
After Church refreshments on a Sunday and Saturday Pop-In are now in full swing and are very popular – do come and join us!  10am to 11.30am.  A few Covid restrictions will still have to be in place but we hope we can all enjoy sitting and chatting  with friends.
Our Help and Support is Needed by the Clacton Food Bank run by The Salvation Army
Your Help Is Needed!!!
We are all so aware that the cost of living is climbing steadily and we know from television and social media that many are finding it difficult to manage financially.
So we asked Tracy from the Salvation Army for an update on the position at the Foodbank.  This is her Report:
Clacton Foodbank
Currently as we all experience increasing costs in our food, utilities and petrol bills, we are very mindful of those on the lowest of incomes who are struggling. We are seeing a steady increase in the demand for food support.  Sadly, for many it is reverting to the "heat or eat" scenario!
Most certainly over the last 4/6 weeks we have seen individuals and families who have never had to access the Foodbank before, come to us for help.
If you can donate food, at this time we would ask you to consider food items that we are currently very low on:
Thank you  – Tracy
Please let us help those who are less fortunate than ourselves.
It would be so good, if as a congregation, we could all go the extra mile and bring to Church , even just one or two of the Critically Low Items and those where they have Low Stock. 
Please leave on the table at back of Church.
Can you Help???  These are the items the Savlation Army would be very grateful for:
Critically Low
Tinned Fish, Tinned Fruit, UHT Milk, Dried Milk Powder, Long Life Fruit Juice, Squash, Coffee, Hot Chocolate
Low Stock
Tinned Potatoes, Custard, Tinned Rice Pudding, Tinned Spaghetti, Tinned Tomatoes, Jam, Dried Rice, Tinned Carrots, Cup a Soup
Whilst we are grateful for any food donation, we are not in need of Pasta, Soup or Baked Beans as we have a plentiful supply.
Supporting the People of the Ukraine
The final brilliant total from all those who attended the Pop-In and the congregations on the 13th and 20th March was £1148.75.  A big thank-you to everyone for their generosity.
The Flagpole
Sadly the flagpole, having been cracked and bent in recent high winds has now been removed from the Tower.  It cannot for Health and Safety reasons be replaced on the Tower.  However more worryingly in removing it on Thursday a stress fracture was seen on the Stone near to where the shaft of the Flag Pole was attached.
Quiz Night
As many of you know a Quiz Night was held in the Village Hall on the 9th April in aid of Church Funds.  We requested the money's raised be put towards the printing of our really important Church Magazine.  £575 was raised which is a tremendous help and we are really grateful to:
Jim and Jill Bligh
Peter and Jennifer Tidy
Robert and Heather Morton
for their hard work.
Very many thanks to them and their helpers for what was a very enjoyable evening for the many people who attended.
P.C.C. Secretary and Wedding Coordinator
I am very pleased to inform you that following recent interviews, we have filled the vacancies of P.C.C. Secretary and Benefice Wedding Coordinator.
Claire Pearson will be taking on the Role of the P.C.C. Secretary and Jennifer Ford will be taking on the role of Benefice Wedding Coordinator.
Congratulations, I look forward to working with you both from 4th April.
Every Blessing –  Sharon
Update on the Bell Simulator
The bell simulator has been successfully installed. The benefits of having a simulator are, we can have far more training sessions for new ringers as we can tailor these to the times they are available, we can encourage ringers who wish to ring a new method (tune) or wish to improve their ringing, to come along and practice more regularly than just the Wednesday practices. BUT for most people the benefit will be that you will only hear a dull thud outside of the ringing room. The clappers have been muffled and sensors attached to the frame of the bells so that the ringing will be heard in the ringing room but not outside. There is nothing worse for local residents than hearing the clashing of bells when learning or a single monotonous bell that is rung inconsistently. We will still have open bells on Wednesday practices and of course on Sundays. However just a reminder that on 7th and 8th April we have been chosen to host part of the Essex Ringing Course and these will be rung on open bells. This was agreed sometime ago before the simulator was installed. We are also hoping to ring on the 3rd April not only for Sunday Service but also before the Tendring Brass Band have their concert.
Helen Bridgman
Bell Ringing Practice
 Bell Practice will now take place on Wednesdays at 1.30 – 3.30 and 7.30 – 9pm.
Renovating the Church Floor
The wooden parquet flooring was laid in the Church in the 1890's by Sir John Johnson, owner of St Osyth Priory.  It remained in its bare untreated state until the 1990's when The Friends of St Osyth Church decided that it should be sanded and polished.
In these intervening years much care, time and money has been spent maintaining it.  We have finally come to the point when we need to look at the state of the floor and possibly review our practices.  This is what we are now doing.
Easter Flowers
Thank you to everyone who donated to the Easter flowers in
memory of families and loved ones.
The Pew Sheet
Should you have any Notices that you would like put on the Pew Sheet, please ensure that they are with Monica (monmarharv@gmail.com) by 8.30am on a Friday morning ready for the Pew Sheet to be sent out later in the day.  Thank-you.
Although the Pew Sheet is now being sent out electronically, to save on both paper and time, there will be 10 copies in Church on the table for those who are not able to receive it via iPad/Computer.  Do take one
Wedding Coordinator
Wedding Coordinator.  All wedding enquiries and bookings for St. Osyth Parish Church and Great Bentley Parish Church are to go to Jennifer Ford. weddings.stosythchurch@hotmail.com.
Wedding Coordinator
Wedding Coordinator.  All wedding enquiries and bookings for St. Osyth Parish Church and Great Bentley Parish Church are to go to Jennifer Ford. weddings.stosythchurch@hotmail.com.
The Pew Sheet
Should you have any Notices that you would like put on the Pew Sheet, please ensure that they are with Monica (monmarharv@gmail.com) by 8.30am on a Friday morning ready for the Pew Sheet to be sent out later in the day.  Thank-you.
Although the Pew Sheet is now being sent out electronically, to save on both paper and time, there will be 10 copies in Church on the table for those who are not able to receive it via iPad/Computer.  Do take one