The Church Room
We are very lucky to have our Church Room. It is much used for a wide variety of events, both social and for Church business. From PCC meetings to Sunday Club mornings, from Pop In Saturdays to wedding and baptim surgeries……….. It has witnessed many happy occasions and as it has a purpose built kitchen it also means we can readily rustle up refreshments – even the popular tea cakes on Saturdays or bacon butties at coffee mornings!
Saturday Pop-In mornings – these are suspended until further notice due to the Coronavirus.
These are run every week by a rota of volunteers.  You are guaranteed a warm welcome, as well as refreshments, often including homemade cakes etc.  Money raised from these regular coffee mornings is a welcome addition to the Church coffers. 
Toilet Facilities – we are fortunate to have a cloakroom and single toilet within the Church building.  Additional facilities can be found just along the road outside the Church at the public toilets.
Salvation Army Food Drop Off Point
15.5.20.   Salvation Army Food Bank
Thank-you to those who are still able to drop items into the porch. As some members of our church are self isolating and cannot do this, but still would like to donate, they are ringing Nisa/Premier Stores. They then state the sum of money that they want to spend and request that a box/bag of 'essentials' is delivered to the Church Porch by the Parish Council volunteers.
The system works really well.
We have been informed by the Salvation Army that there is a 250% increase in parcels given out this April compared with April 2019.
Please do support the Food Bank, in any way that is possible for you. Thank-you.
St Osyth Church as been supporting the Salvation Army food bank since it began five years ago.  The Church is a drop off point for food donations and every Tuesday several bags of supplies are taken into the SA food bank from parish donations.   We are regularly updated with a list of essential foods that they particularly want. 
We have been advised that  they are URGENTLY in need of most items – for example tinned fish, rice, hot chocolate, dried mashed potato, powdered and Long Life milk, sugar, fruit juice and squashes – all supplies are currently low and all help is gratefully appreciated!
 Anyone can leave donations in the special container in the Church Porch – opening times 8am – 4pm as a rule.  Thank you!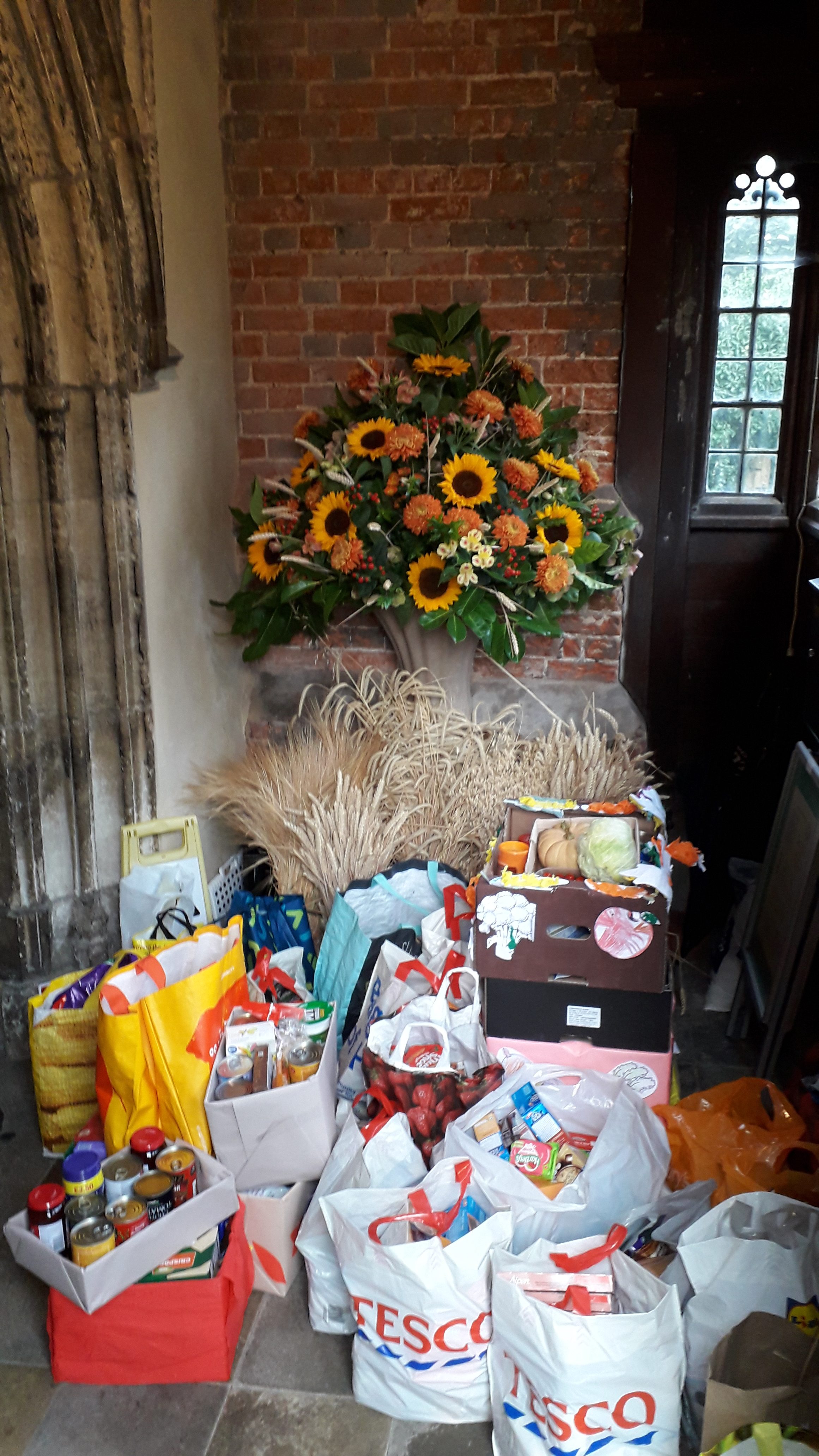 Some of the produce collected at this Harvest Festival (2018) for the Salvation Army, including bags of goods from St Osyth C of E School